Providing Valuable Information and Insights Since 2006
PharmIntell was established in 2006 in response to the growing trend in the pharma and device industries toward closing corporate libraries and outsourcing information services. We were certain that, despite these closures, experienced information professionals would be needed to ensure compliance with regulatory requirements and provide research and information to empower decisions. After a modest beginning with a staff of three, we've grown to employ over 30 of the top people in the business.
Our model is to recruit and hire the most experienced and competent information professionals from across the country, and to provide them with diverse and dynamic opportunities to partner with our growing list of industry clients. Our people are often embedded team members in a robust business partnership that goes above and beyond a simple transactional service.
Michelle Eindhoven
Co-Owner & Pharma and Consumer Operations Manager
Michelle Eindhoven holds a Master of Library and Information Science from University of Texas GSLIS, and a BA in Biology from Williams College. She has 20+ years of experience in information services in the pharmaceutical sector and has developed expertise in the areas of pharmacovigilance, literature searching and surveillance. She manages the pharma and consumer client portfolio for PharmIntell, and became a part-owner in 2018.
Donna Sees
Co-Owner & Medical Devices Operations Manager
Donna Sees started her career in the telecommunications industry during the tech boom. While there, she established a library call center fielding information requests across the international company. Later, she managed the intranet team and established a knowledge management system supporting the company's products. When the tech boom went bust, Donna moved to the medical devices industry. She has supported medical device companies with a wide variety of specialty areas including orthopedics, surgical, breast care, vision, cardiovascular, neurovascular, and dental.
Melida Busch
Competitive Intelligence Manager, Medical Devices
Melida Busch earned her MLIS from the University of Wisconsin-Milwaukee, beginning her career with a focus on information services for the Medical Device & Diagnostics sector. She has since developed expertise supporting Pharmaceutical, Academic Health Center and start-up communities to meet their Competitive Intelligence and Knowledge Management needs through both long-term engagement and ad-hoc support. In her role as Competitive Intelligence Manager, she seeks to fully understand the client's near- and long-term goals and determine how PharmIntell can most efficiently and effectively enable their success.  
Denise Campbell
Competitive Intelligence Manager, Pharma and Consumer
Denise Campbell earned a Master of Library Science from Rutgers University and a BA in Communications from Douglass College.  With over 25 years working with Fortune 500 companies in the field of information services she brings varied industry experience to her current role as Manager, Pharma CI.  In addition to her managerial responsibilities she continues to provide CI support to the CV/MET and Oncology therapeutic areas including drug/target landscapes, surveillance on key areas of interest, CI website activities and provides expertise on many secondary data sources.
Kerry Kushinka
Founder and President Emeritus
Kerry Kushinka earned a BS in Biology from Dickinson College and an MLS from Rutgers University. She started her career as an information professional in the pharmaceutical industry and managed an information center for five years before becoming an independent consultant. In 2006, she founded PharmIntell. Kerry is a past chair of the Special Libraries Association Pharmaceutical and Health Technology Division (PHTD).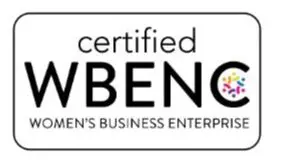 PharmIntell is certified as a Women's Business Enterprise
PharmIntell is certified as a Women's Business Enterprise (WBE) through the Women's Business Enterprise National Council (WBENC), the nation's largest third party certifier of businesses owned and operated by women in the US. We recognize the commitment to supplier diversity that is embraced by corporations and government agencies today, and we can add diversity to your supply chain.
PharmIntell always welcomes inquiries from proven, enthusiastic, and service-oriented information professionals. If you possess knowledge of the pharmaceutical and medical device industries, have experience in literature searching of subscription databases and/or a degree in library and information science, and have conducted information research and analysis, or competitive intelligence, we welcome hearing from you.  
PharmIntell is different from other companies. We advocate the employment of information professionals and accommodate your lifestyle and schedule with flexible work hours.
Contact PharmIntell for more information.